Dr.P.Sundara Pandian
I would like to express my heartfelt gratitude to you and the International Journal of Current Science Research and the International Journal of Business and Economic Research team for your work in bringing the journal successfully. The journal is timely, courteous and professional. The journal has a clear mission to support, validate and connect the work of researchers and other knowledge makers, so that it can make the fullest possible contribution. I have been impressed with the excellent professionalism on constructive editorial work and quick turnaround time for your manuscript publications. I am sure this knowledge disseminating world journal will adhere to millions of science and Social Science readers in the years to come. Heartiest Congratulations for your devoted endeavor in publishing the esteemed journals. I am really thankful and grateful to the IJCSR team members. The Journal empowers the learners, thinkers and doers with trusted knowledge that advances research and enriches lives. They take a great step to bring together diverse people, ideas and opinions to validate and publish the experts, theories and truths that matter.
Dr. Thommai Arockia Gasper Devaraj
Dear Friends, Greetings, I would like to share information about Dr. BGR Publications. It is a very accessible journals, especially the International Journal of Current Science Research (IJCSR) and the International Journal of Business and Economics Research (IJBER). Both journals are highly indexed and have reached most of the countries with citations. This publication is very clear and accessible to every researcher. I have published my research articles in both the IJCSR and IJBER. Now that articles have reached most of the countries with citations, I would recommend this publisher to anyone looking for friendly service at the best price.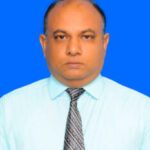 Dr.M.Muruganandam
First of all I appreciate your positive time management for publication. IJCSR avoids unnecessary time delay to the editing process and publications. It minimizes all the processes with limited time. The IJCSR communications, correspondence, and approaches are clear, smart and positive. For that I wish to thank you. The IJCSR is publishing an article at a very reasonable time. The IJCSR is doing great service to young researchers and they bring their findings too universally during a short duration. I pray to God for Editors and Editorial team members' good service and positive approach. I wish you all the Success to your service and smart work in the present and Future.